I've never understood monthly loves because when I love something, I love it forever. It can never leave me. If it breaks or dies, I suffer the loss of my loved item. Here's what I've been absolutely loving for a while. It was hard to pick just a few. I'm thinking of making this a frequent blog post. Some of these are insta-loves while others I've been using and loving for months.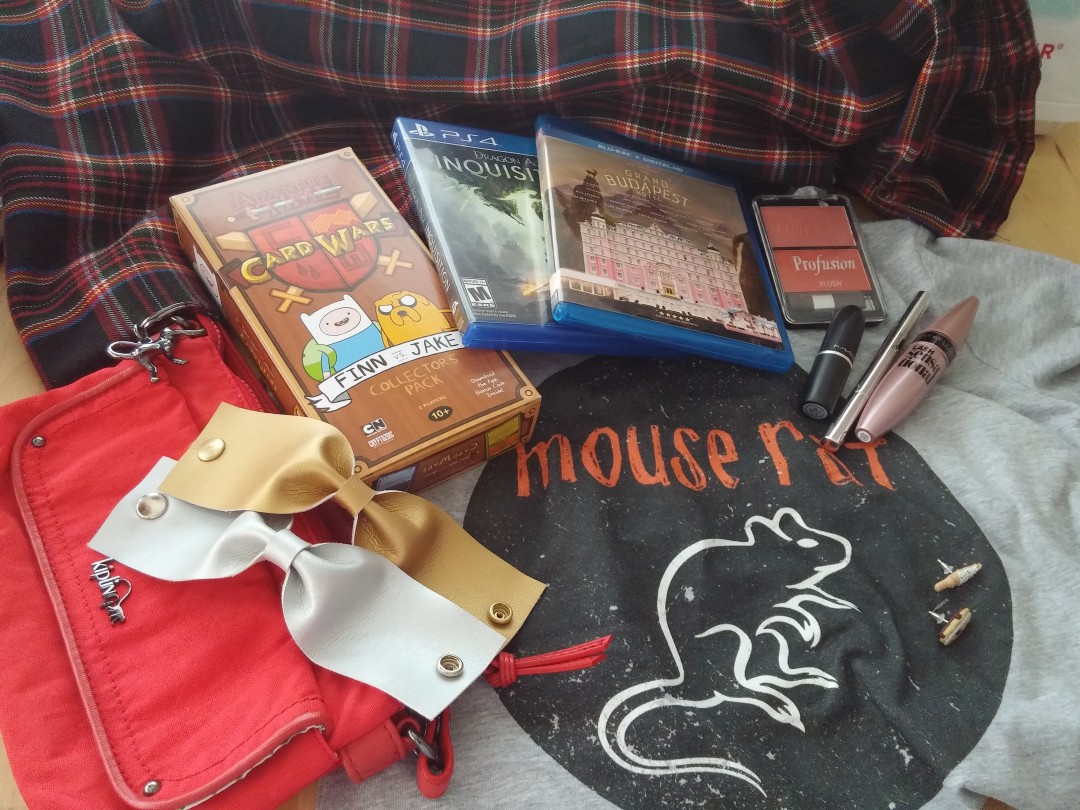 1. If you haven't watched Parks and Recreation  where have you been? Really. This shirt was a gift from an awesome friend who apparently knew exactly what I needed. You can also "Fall into the pit" and shine like "5000 Candles in the Wind" with this fantastic t-shirt sold by Red Bubble.

2. The plaid infinity scarf and two fabulous silver and gold bow cuffs are from Forgotten Cotton. I bought the cuffs back in December and have been wearing them non-stop. They go with everything! They're also comfortable, non-itchy, durable, and handmade here in the U.S.A.
3. That fantastic awesomesauce clutch is from Kipling but was also a gift. I'm not sure where you can get this exact one. I've searched on the Internet and couldn't find it. However, I can attest that Kipling bags are durable, gorgeous, and fashionable. I have a few that I've owned for years. This one's my first clutch/handbag and it's just as good as the rest.
4.  Okay… I love Adventure Time. I love cartoons. I always will. Adventure Time Card Wars is so much fun! It's like Magic the Gathering but cute. If you love Adventure Time you'll love this card game.
5. The ice cream button earrings were made by me with my hands. *Cannot be purchased in stores*
4. MAC's New York Apple  is a stunning shade of red. I think possibly a berry red yet it's kind of sheer? It spruces up any outfit without looking too intense.  Here's a swatch: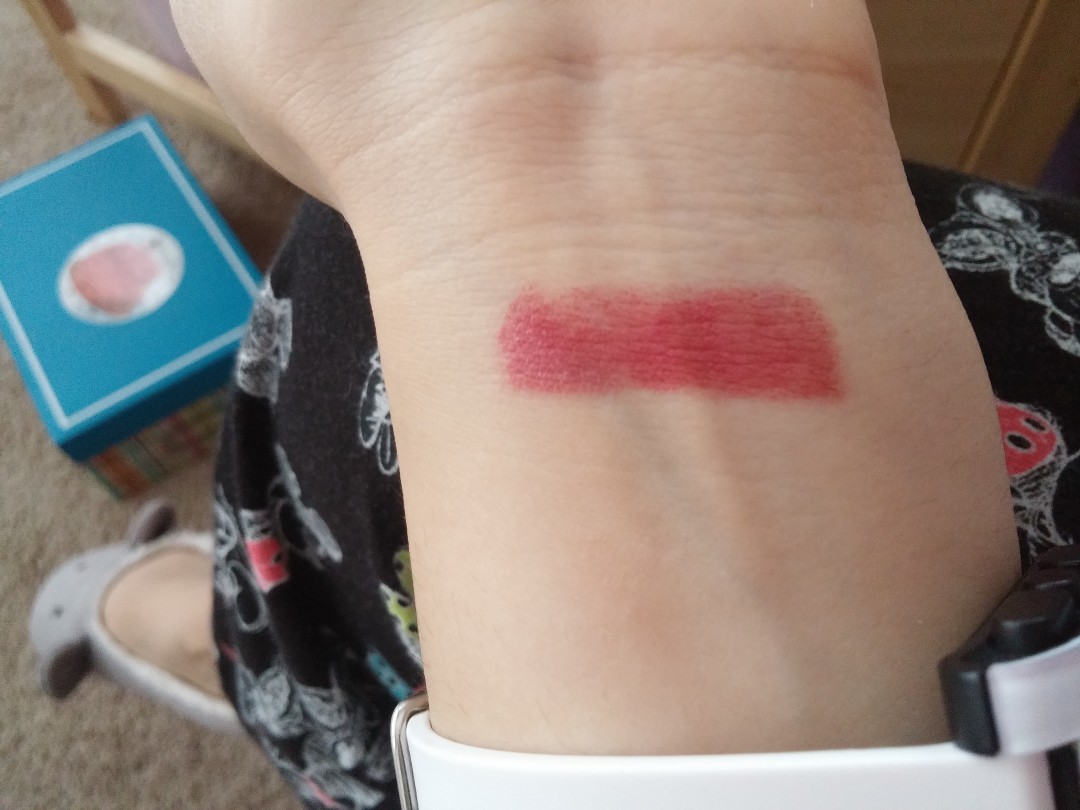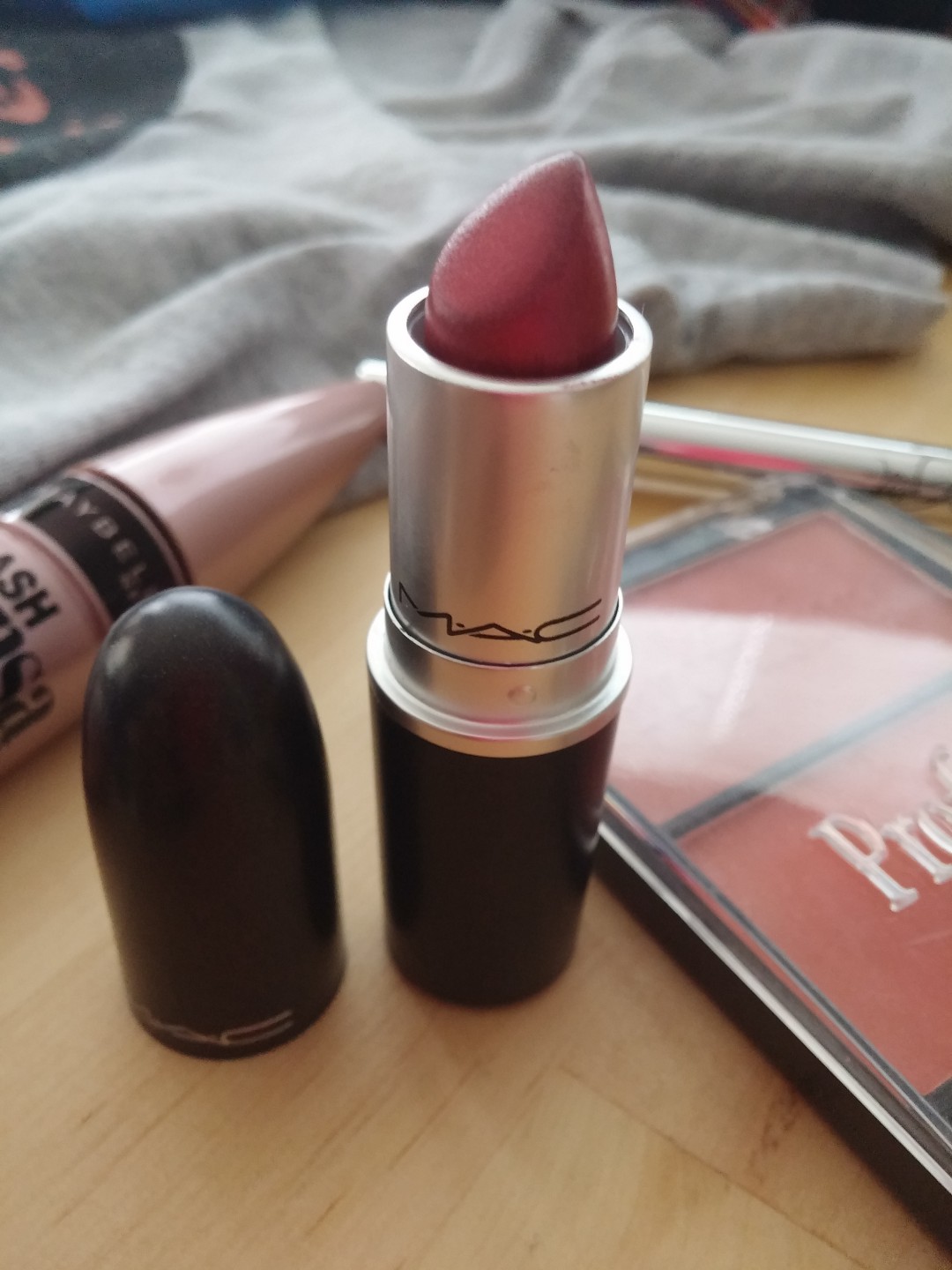 5. Jesse's Girl Cosmetics liquid black eyeliner, Profusion blush, and Maybelline Lash Sensational Mascara are the drugstore cosmetics I've been adoring and wanting to marry. I don't have swatches of these but they're coming soon! I'll be reviewing them in more detail later on. I will say that Jesse's Girl liquid eyeliner is INCREDIBLE. I mean, I wear eyeliner every time I do my makeup so I've used a lot of them. This one is by far one of my favorites. It's pointed felted tip is perfection. It's actually pointed not rounded or very big. Maybelline Lash Sensation mascara is a steal. It provides volume and length that can rival any high-end mascara. That profusion blush set was a gift from my mother. She bought this particular blush set in Puerto Rico and I couldn't find it online. Nevertheless. Profusion cosmetics are incredibly inexpensive, long lasting, and pigmented.
6. Dragon Age Inquisition and The Grand Budapest Hotel are my two media favorites. Dragon Age Inquisition has got to be one of the best games I have played this year. Once I started, I couldn't stop. As soon as I finished, I mourned the loss of my digital friends. If you were on the fence about purchasing this game, get out of that fence right this instant and go buy it. RIGHT NOW! The Grand Budapest hotel is beautiful. I love Wes Anderson films. His aesthetics are always beautiful and his plots interesting yet imaginative. The same purchasing rules apply to this one. Go buy it! Rent it! Show it to your friends!
Now that you know about some of my favorite bits, what are yours? I'd love to know. Maybe you can add a link to your blog or leave it in the comments? I'm always open to trying new things and looooove hearing about new products.