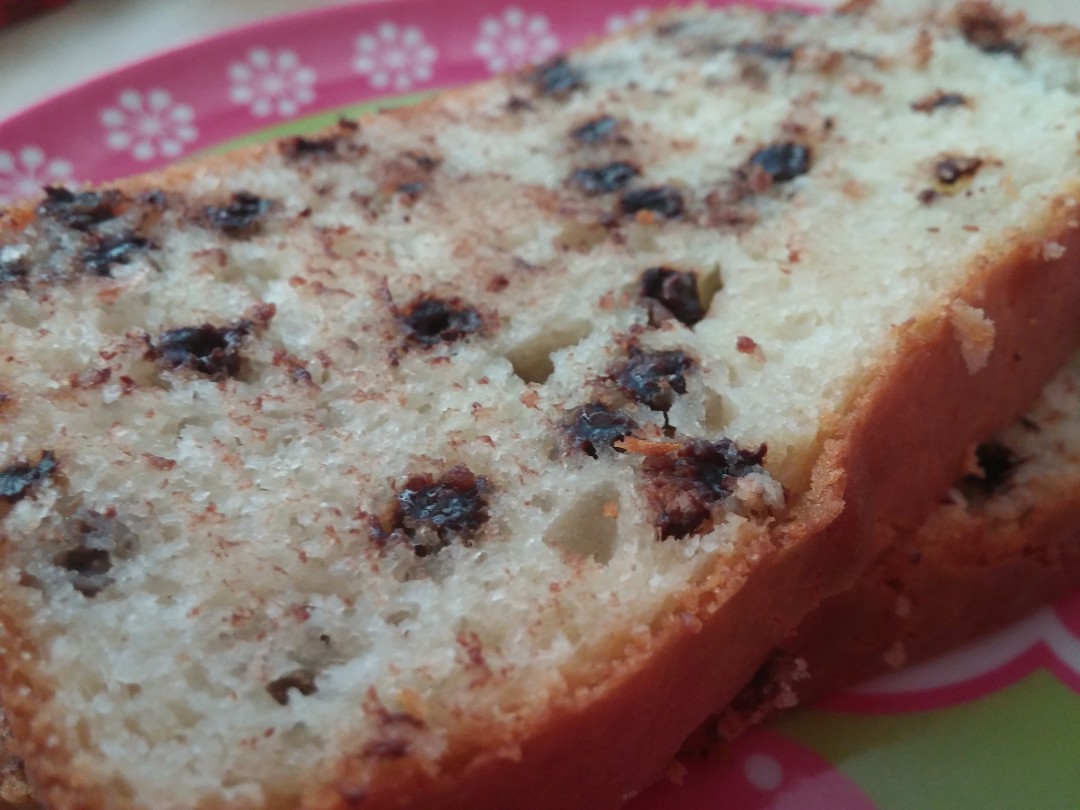 There's a story that goes with this recipe. About 4-5 years a go while I was living in Puerto Rico, my friend's friend was selling some cream rolls. She had a vast variety of flavors but vanilla chocolate chip with cream filling one caught my fancy; I ordered two. The following week my friend brought me my order and I promptly began devouring the cream roll. The cream was good but the cake, THE CAKE! It blew my mind. I thought that cake was made from scratch because it was so absolutely delicious. I tried recreating it for years.  Nothing could top that cake. Absolutely nothing I baked was as good as that chocolate chip cake. I'm not exaggerating. It took me about 3 years to realize this woman just used a box of cake mix and pimped it up with some delicious flavors. I've been doing the same kind of cake for years without chocolate chips and using yellowcake mix. It's delicious but it wasn't what I had. I finally bought WHITE cake mix and tried recreating the cake. I managed it, everyone. I did it. Now I can have the cake whenever I please. This recipe is really very easy. It tastes like it were made from scratch but it really isn't. I encourage you to trick both your friends and family with this recipe.
Ingredients:
1 box of white cake mix (I use Pillsbury)
3 large eggs
1 C of milk
1/3 C of vegetable oil
1 1/2 C of mini semi-sweet chocolate chips
1. First things first, praise the cake Gods for providing you with this recipe. It is simple. You don't have the time or are feeling lazy to bake a cake from scratch. This recipe will more than suffice. You are blessed so praise them and praise them well. I suggest throwing a bit of all-purpose flour in the air, raise your arms, and say "I am all that is cake! I praise thee! Bring on the chocolate!" then preheat the oven to 350 degrees.
2. In a large bowl add the three eggs and beat them. Do not overbeat your eggs. You aren't making an omelet. Once they're beaten, sift in some of the flour. Do not skip sifting! It will make the cake extra fluffy and remove all the lumps from the flour. It also quickens the entire process. If the flour is not lumpy neither will the batter. As you stir in the flour, you want to add the milk in gradually, and the oil. Lastly, fold in the chocolate chips!
3. Do not overmix. It'll make the cake gross, dense, and unhappy. It'll taste like misery. You will be overcome with sadness. Mix the batter until it is one with all the ingredients.
4. In a prepared cake pan, add the mixture. Bake the cake for 50-60 minutes. It depends on your cake pan. If you're making cupcakes it'll take about 24 minutes for each pan. Keep an eye on them and when you think they're ready stab the middle one or middle part of the cake with your cake tester.
5. You're done! Offer a piece of cake as an offering to the cake Gods for allowing you to have your cake and eat it too.
Optional: Frosting
You can add any kind of frosting to this cake that you'd like. I personally do not like frosting very much so I don't have it with any. I don't think it needs it. However, some people love the stuff. I'd just buy some vanilla icing and top the cake with it. You can do what you'd like. Do it. Live your life.